Dear Church Family,
Last Sunday
It's good to know what something is for. A good thing can be wasted or abused if we don't know its purpose. Last week we saw from 2 Cor. 9:6-15 the "what for" of God's material blessings. God gives so that "you may abound in every good work" (v. 8); God gives so that you may sow and "increase the harvest of your righteousness" (v. 10); God gives so that you may "be generous in every way" (v. 11). God has not only provided for our material needs, he has given us "all things" in Jesus Christ. But it is not without a "what for." God's inexpressible gift saves us out of darkness into light, and is meant to transform us into cheerful givers who imitate their giving Savior through the power of his Spirit. As you consider all that God has given you, ask yourself constantly, "What for?"
New Connection Classes
New connection classes begin this Sunday. Don't miss out!
Parenting: In this class we will allow the bible to guide us as we discern how to parent in a gospel-centered way. When: 9:30 am. Where: Christian Challenge Building. Who: Tad Skinner and Brandon Reimus.
Identity In Christ (for women): This class will explore how Christ's work on our behalf (during his life, death, and resurrection) impacts how we live our lives in a variety of ways. When: 11:15 am. Where: Christian Challenge Building. Who: Amy Diehl.
Sexual Sanity (for men): Join us as we openly discuss the realities of sex, pornography, and manhood in light of God's revelation and Christ's redemption. When: 11:15 am. Where: Multipurpose Building. Who: Nick Fryberger.
Wishing Wally Well
Our dear brother Wally Hall, a member of Church on Mill for the past 60 years, shared with the 9:30am gathering last Sunday that he is moving with his daughter to Flagstaff, Arizona. While it is with sadness that we watch him go, it is with joy that we know his spiritual legacy will remain with us. Wally would love to hear from you whether you know him well or simply want to encourage him as he goes, and you can contact him with his information in the Membership Directory. Stay tuned, because in a few weeks we'll be sharing more of Wally's story of God working through him here in Tempe and at Church on Mill.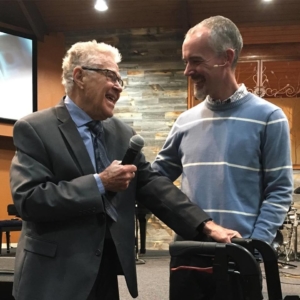 Your brother in Christ,
Phil Hoshiwara