"How goes the fight for your soul?" I wonder, when was the last time someone asked you that question? I suspect few Christians give the sort of attention to this question that it deserves. We mostly live our lives under the powerful illusion of peace and security, but a true war for our soul resides in each passing moment.
John Owen, a leading Puritan theologian of the 17th century, brings this question to the forefront in his classic work, The Mortification of Sin. What follows is not meant to be a summary of the whole, but a short reflection on four nuggets of wisdom from that work (there are many, many more that might have been included). I pray it will be useful to you in the fight for your soul.
1) Recognize you are at war
And if at war, you can be sure you have an enemy. Not only does the devil prowl around "like a roaring lion, seeking someone to devour" (1 Pet. 5:8), but the sin in our own hearts is always at work to ruin us. Do we live our lives like men being hunted—like soldiers behind enemy lines? Owen warns us that sin is not idle. It aims all of its restless movements at our destruction.
"If, then, sin will be always acting, if we be not always mortifying, we are lost creatures…If sin be subtle, watchful, strong, and always at work in the business of killing our souls, and we be slothful, negligent, foolish, in proceeding to the ruin thereof, can we expect a comfortable event? There is not a day but sin foils or is foiled, prevails or is prevailed on…there is no safety against it but in constant warfare." (52)
Did you pray yesterday and wonder why you fall today? Did you trust in God's Word two hours ago and are surprised by sin's victory in the present hour? Well, sin is always on the move, and we must always be growing in grace to fight it.
2) Fight by the Spirit
There are people who know they are at war, even without the Spirit. They have never come to Christ, but they see the evil effects of their sin, and they want to rid themselves of it. What does Owen say concerning the one in this condition?
"This is the saddest warfare that any poor creature can be engaged in. A soul under the power of conviction from the law is pressed to fight against sin, but has no strength for the combat. They cannot but fight, and they can never conquer…" (62)
If you have not turned to Christ and taken refuge in him—if you have not received his Spirit that seals you and empowers you—this is the first order of business. You will make no progress of any spiritual value until "the law of the Spirit of life has set you free in Christ Jesus" (Rom. 8:2).
3) Study your enemy
In warfare, we want to know the strategy of our enemy, his strengths and weaknesses. Owen urges us, even in times of apparent peace, to be studying our enemy (remember, sin is always on the move). Consider this helpful line of thought:
"This is our enemy; this is his way and progress, these are his advantages, thus has he prevailed, and thus he will do, if not prevented." (76)
Have you identified the particular sins that most often ensnare you? Do you know the occasions they are likely to strike? Do you know the character of your thoughts and feelings just before the enemy pounces? Do you have a battle plan before the battle has begun?
4) Keep the cross at the center
All of our striving, our efforts, our prayers, readings, fellowship, meditations, and whatever else we may do in combating sin, must be done by faith in Christ and his finished work on the cross. His death accomplished our sure victory, and we have been buried with him that we might walk in newness of life (Rom 6:4). This is the basis for our warfare, and we must stand on it daily.
"Let faith look on Christ in the gospel as he is set forth dying and crucified for us. Look on him under the weight of our sins, praying, bleeding, dying; bring him in that condition into your heart by faith; apply his blood so shed to your corruptions. Do this daily." (138)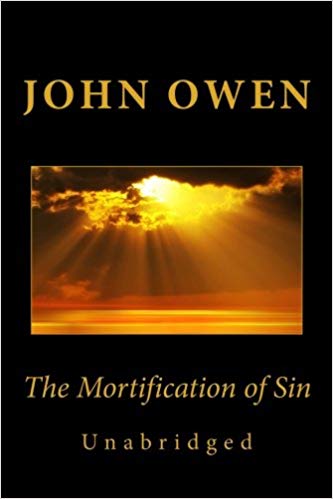 Get The Mortification of Sin by John Owen here.
Phil Hoshiwara, Pastoral Resident at Church on Mill