Kristina Chow is a member of Church on Mill involved in Life Among the Nations and Preschool Ministry. In this article, she explores hope in The Waiting Place.
Have you read Oh! The Places You'll Go by Dr. Seuss? It's been a favorite bedtime reading at our house for a few months since my four-year-old loves the rhythms and rhymes. As the grown-up most often reading it aloud, I keep finding new gems that he doesn't quite get yet. This part in particular has been hitting a little too close to home lately:
"You can get so confused
That you'll start in to race
Down long wiggled roads at a break-necking pace
And grind on for miles cross weirdish wild space.
Headed, I fear, toward a most useless place
The Waiting Place…
…for people just waiting.
Waiting for a train to go
Or a bus to come, or a plane to go
Or the mail to come, or the rain to go
Or the phone to ring, or the snow to snow
Or the waiting around for a Yes or No
Or waiting for their hair to grow.
Everyone is just waiting."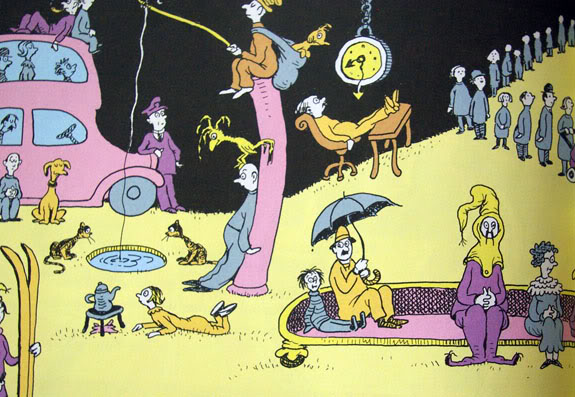 Doesn't that feel like so much of what we are doing these days? Instead of waiting for our hair to grow…we're waiting to get our hair cut, we're waiting for the latest news on COVID-19 spread, we're waiting to see if we'll be able to go back to work, we're waiting to find out if we'll be able to spend time with our friends again, we're waiting for a loved one to get out of the hospital, we're waiting to see if our children will be able to go to school in person, or we're waiting to find out if we'll ever be able to feel "normal" again. It's so break-necking to cross this weirdish wild space, right?!
Hope
Just like we are encouraged by Paul in 1 Thessalonians to look at death differently than the world (they have no hope, but we do!) we need to be looking at this time of waiting and uncertainty differently than those around us. I don't know about you, but I need to constantly remind my fickle, discouraged, waiting heart that I do have hope!
How? Well… an even more eye-opening and trustworthy place than Dr. Seuss tells us. If you look with me, we can see this hope very strikingly in the first chapter of 1 Peter. Though he specifically encourages believers of his day to persevere through the suffering of persecution, I think Peter's encouragement to persevere through trials in light of a believer's final hope is very applicable to us right now.
3 Blessed be the God and Father of our Lord Jesus Christ! According to his great mercy, he has caused us to be born again to a living hope through the resurrection of Jesus Christ from the dead, 4 to an inheritance that is imperishable, undefiled, and unfading, kept in heaven for you, 5 who by God's power are being guarded through faith for a salvation ready to be revealed in the last time. 6 In this you rejoice, though now for a little while, if necessary, you have been grieved by various trials, 7 so that the tested genuineness of your faith—more precious than gold that perishes though it is tested by fire—may be found to result in praise and glory and honor at the revelation of Jesus Christ. 8 Though you have not seen him, you love him. Though you do not now see him, you believe in him and rejoice with joy that is inexpressible and filled with glory, 9 obtaining the outcome of your faith, the salvation of your souls, (1 Peter 1:3-9).
The Roots of Our Hope
Peter starts in verse three by extolling God's great mercy for causing us to be born again. Have you thought about what it means to be "born again" in the midst of scrolling through the latest numbers and graphs, or as you are sucked into the most recent political controversy? Peter is using the same analogy Jesus used for Nicodemus (John 3), in which Jesus taught that following him is an act of miraculous new life graciously bestowed upon us by God.
As believers in Christ, we become a newborn, and we are without the stain of the ancient, wicked life we were born into before. Amazing! This new life isn't just a do-over. We are born into a living hope that is alive because Jesus himself died and rose again!
Yes, this a lot of exclamation points, and all my English teachers would despair of correcting this situation, but I think Peter would want us to be shaken out of our despondency so we can finally see how excellent this inheritance of eternal life is!
Even Under Trial
Because of our status as the guarded children of God, we are known, and our trials are acknowledged. Please notice the encouragement in that. In verse seven, Peter doesn't downplay the suffering that the believers have experienced. He even compares it to a very hot fire that is hot enough to melt down gold. Ouch.
Peter knows that this trial has been great in the believer's life, but God's revelation of Jesus is greater. He doesn't just put a pithy statement over the suffering they experienced and point to Jesus. No, he recognizes how difficult it is, but gently reminds us of a faith more precious than gold—that Jesus is better. We need to do the same work for our hearts and emotions, noting the difficulty without wallowing in the suffering, and then again pointing ourselves back to the One who is greater.
But How?
And how do we do that? Read verse eight, "Though you have not seen him, you love him. Though you do not now see him, you believe in him and rejoice with joy that is inexpressible and filled with glory." We don't see him, but we can hold on to the rejoicing of knowing that our place is assured in heaven.
This finished work of Christ on the cross is unseen; maybe that's why we need to go back again and again (and again) to continually place our hope and trust in him. There is a solid hope in the belief that we affirm with saints of old as we recite the Apostles Creed,
"I believe in God, the Father Almighty,
maker of heaven and earth;
And in Jesus Christ his only Son, our Lord;
who was conceived by the Holy Spirit,
born of the Virgin Mary,
suffered under Pontius Pilate,
was crucified, dead, and buried;
the third day he rose from the dead;
he ascended into heaven,
and sitteth at the right hand of God the Father Almighty;
from thence he shall come to judge the quick and the dead.
I believe in the Holy Spirit,
the holy catholic* church,
the communion of saints,
the forgiveness of sins,
the resurrection of the body,
and the life everlasting. Amen."
*universal
Reciting this creed may seem old fashioned, but it has been used for years and years by those who have gone before us in the faith to bolster their own hope. As we repeat solid truths in this condensed format we can follow in their hopeful footsteps. We can trust and believe in Christ's forgiveness of sins and life everlasting. Forever life. Salvation for our souls. If you need to, find a song with the words of this creed and sing it to yourself (I definitely do that too!).
100%
The best part of this news that Peter asks believers to dwell on is that the outcome is completely secure. Instead of 98¾% guarantee of success that Dr. Seuss promises his little reader at the end of his book, God can promise a 100% guarantee of peace and hope and eternal life with him. Oh! The solidity and comfort of that whole, complete number. Cling to this truth with me friends, and we'll make it through and past this useless, helpless, hopeless waiting place.
Kristina Chow