As we mentioned at the Members Meeting and then again on Sunday morning, the Director of Family Ministries Search Team recently brought a candidate, Tim Stokes, to meet with the search team, the staff, and the volunteer ministry coordinators. Additionally, he met a few of our children and some of you had the opportunity to meet him informally on Sunday the 20th.
Everyone who met Tim had good things to say and felt positive about taking the next step in the process with him. Likewise, Tim enjoyed his time with everyone and also believes that God is leading towards another visit.
I'm very excited to tell you that Tim and his family (wife Linoshca and son Caden) will be flying out to meet with our preschoolers, children and youth, and the rest of the church from October 21-25! We'll update you on exact schedules and opportunities to meet Tim and his family through blog postings on our website as well as on Sunday mornings.
But, better than I can introduce Tim, he would like to tell you a little about himself. Below is a letter to you from Tim as well as a couple of pics.
And, please continue to pray for Tim and our church family as we continue to seek God's will!
Tad Skinner
---
Hello Church on Mill!
My name is Tim Stokes. I'd like to introduce myself to you and tell you why I want to be involved in family ministry at Church on Mill. I have spent almost my entire life between Columbia, South Carolina and Charleston, South Carolina with stops in Florida and North Carolina in between. After graduating from high school I felt that God was leading me to attend Charleston Southern University to study history. While attending CSU, I felt God calling me to ministry. By this time I had already been preaching for several years but had never intended on entering the ministry full-time. I'm glad I didn't turn my back on the plan God had for me.
My life has been changed in so many ways since pursuing Christ's call on my life. I have had the opportunity to travel all over the Southeastern United States and even to South Africa preaching the gospel. Also, while attending CSU I met my wife and partner in ministry, Linoshca. She has been with me every step of the way since we started dating in 2010 and since getting married in 2013. Since getting married I have graduated from Southeastern Baptist Theological Seminary in Wake Forest, North Carolina and Linoshca has pursued her Masters in Counseling from Liberty University. We were very blessed in 2014 to find out that we would be welcoming our first child into the world. On November 7th, 2014 Caden was born and our lives have been blessed through our little bundle of joy.
Now, you're probably wondering – why family ministry? What is it that would make me consider moving all the way to Arizona to answer the call to be your Director of Family Ministries? Well, that answer is both simple and complex. God has blessed me in my ministry to serve in several different capacities including student ministries (youth and college), the senior pastorate (interim roles), and even a lead church planter in Charleston, South Carolina. Why family ministry you ask? Simple, because I have seen the breakdown of the family in our culture. God has given us families for the sake of living out the gospel in the midst of a dark world. I have seen parents fail to live up to their spiritual responsibilities in their children's lives. I have seen broken homes and what that can do to a child spiritually. I want to be a catalyst within the church to restore families and family worship. I want to equip parents to disciple their children. I want to equip volunteers so that we can have the best family ministry possible to disciple children and students. I want to equip our students and children to engage the world with the gospel at home, at work, or at school. Family ministry is vitally important to the health of the church, so family ministry is vitally important to me.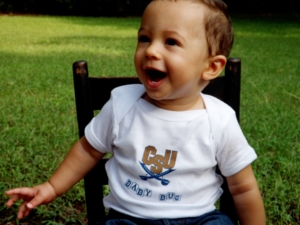 Another reason is a little more selfish though. Family ministry is important to me because of Caden, my son. I want to leave a legacy of worship in our family so that when he leaves us to go to college and have his own family, he will continue to worship God in his family. He will learn how to lead his wife well as he follows after God. He will train up his children in the
ways of the Lord. I know Caden is still young, but it starts now. Not only do I want this to occur in Caden's life, but also in your children's lives as well. This is why I feel called to family ministry.
To God alone be the glory,
Tim Stokes